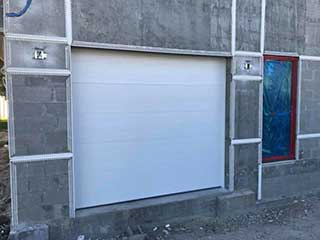 A garage door is a long term investment and it is best to consider the options open to you before settling on the decision of which door to go for. The cost can range from hundreds thousands of dollars depending on the type of door, materials and associated accessories you opt for. In general, although a new door can be an expensive investment, most of the time it is worth it in terms of durability, security and your home's overall curb appeal.
Set Your Budget

We always advise homeowners to do plenty of research into prices and budget before making the final decision regarding your new door. Your budget may dictate the material, style and accessories you decide to go for – it's best to confirm your parameters before the search begins.

Which Material & Style For You?

Heavy frames can cost more than lighter ones but may be more weather-resistant and secure. Similarly you may wish to consider glass or wood styles which may be a bit more expensive than steel depending on the level of detail you wish to have in terms of style.

Consider Insulation & Security

You should consider the area in which you live to confirm the level of security and weather resistance you're likely to need. We always recommend checking your garage door is well insulated, without this you may experience unnecessarily large energy bills as air escapes from your house through your garage.

Which Opener To Suit Your Needs

If you're also investing in a new opener, you need to decide between chain, belt and screw types. If you're concerned about noise and have a bedroom located close to your garage, we recommend opting for a belt driven type as they are almost silent in operation. When choosing a new unit, you need to ensure that it matches the weight of your door. The general rule is that the heavier your door, the more horsepower your opener will need.

Do You Need Any Additional Features?

Depending on your needs, there are all kinds of additional bolt-ons that comes with doors today. You could opt for a rolling code keypad which generates a new code each time you open or close, a window, or exterior sensor lighting to alert you when someone is in the vicinity of your garage.
To discuss what is best for you and the options available, we recommend speaking to our specialists at Garage Door Repair Waxahachie – just give us a call so we can talk about your needs!