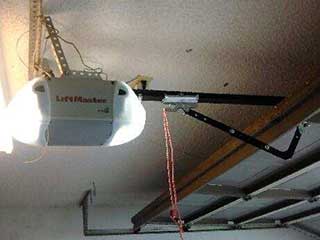 Anyone who prides themselves on being handy around the house may be tempted to carry out repairs on their garage door. While there are some maintenance tasks that can be safely performed by homeowners, this system is potentially a very dangerous piece of equipment. If you're not a fully trained expert we strongly advise against undertaking any of the below tasks - instead, contact our team of expert technicians.
Spring Repair or Replacement
The springs in your door have the potential to be very dangerous if not properly handled. They bear the weight of the door as it's hauled up and down which means they're under a lot of tension. If this energy isn't safely released, then the spring can whip round and hurt anyone in the vicinity. In addition to this, if the spring fails it will immediately drop the door (and counterweight) onto whatever's below it. We strongly recommend contacting our team of technicians if you suspect there's any problem at all with your springs.
Disconnecting Door Restraints
Many door repair jobs require the door's safety restraints to be disconnected. If properly done, this is safe; however, if anything goes wrong, your door comes crashing down. With doors weighing anywhere from one hundred to several hundred pounds, this can cause a lot of damage. Even if nothing's beneath it at the time, the impact of this fall can damage your floor and the door itself.
Looking Inside the Opener
The door opener is the motor that operates your door, and it's by far the most complex part of the system. Many repairs require you to open the motor up and fix an internal problem, but this has the potential to go very wrong. If you aren't familiar with the opener system there's every possibility that you'll make matters worse. In addition, if you remove the opener from the door system it can be very hard to re-install it and properly calibrate it.
While we recommend homeowners take steps to look after their door, and learn how best to look after it, it's important to know when to call the experts. If you've got a problem, contact us at Garage Door Repair Waxahachie today.