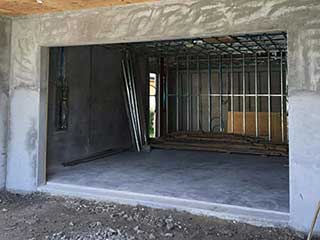 Some garage door problems can be inevitable. However, a great majority of malfunctions can be effectively prevented very simply. All you need to do is to have your system serviced on a regular basis by professional technicians. Our team can help.
Preventing Spring Malfunctions
Obviously, the parts that help you door move and support its heavy weight will require some special attention. With our spring adjustment and lubrication services we can effectively increase the longevity of these components, and prevent a lot of minor issues from developing into something more severe. We'll make sure your door remains properly balanced and that your springs are able to continue working smoothly and silently.
Testing The Safety Sensors
Your opener relies on a pair of photo-electric eyes to keep it from closing the door on a person or an object. If these sensors are misaligned, however, a lot of dangerous things can happen. During each one of our scheduled service appointments, our technicians will test these "eyes" and perform the sensor realignment as necessary to make sure they are able to properly detect an obstacle. This will allow us to make sure your door remains safe to use.
Checking The Hardware
Your garage door tracks and rollers are another key aspect of our maintenance service. We'll inspect the condition of your rollers to make sure no damage has developed, and we'll lubricate them to keep them efficient. We'll also examine the tracks and repair any minor dents to keep them from causing your door to get stuck. If track realignment is required, we'll take care of it on the spot and make sure your door is able to move smoothly along these crucial components.
Longevity Is The Goal
With our scheduled garage door maintenance appointments, your system will be able to last longer and experience fewer issues. Contact Garage Door Repair Waxahachie to schedule an appointment today.
Looking for more? We also offer:
Garage Door Off Track Repair
Opener Sensor Repair & Replacement
Galvanized Torsion Spring Installation